We like to keep things simple but we understand you may have some questions about booking your tour and what happens on the day, here's everything you need to know.
Your tour can be reserved today with no up-front payment, here are our current prices.
Weekday tours start from 1pm and our last tour departs at 10pm. To avoid disappointment please make your booking in advance however if you're lastminute.com give us a call and we'll do our best to make your booking possible.
There's nothing like the hustle and bustle of Belfast on a weekend and the Belfast Party Bike is the best way to experience that atmosphere first hand. Book your tour today as there's always a high demand for weekend tours.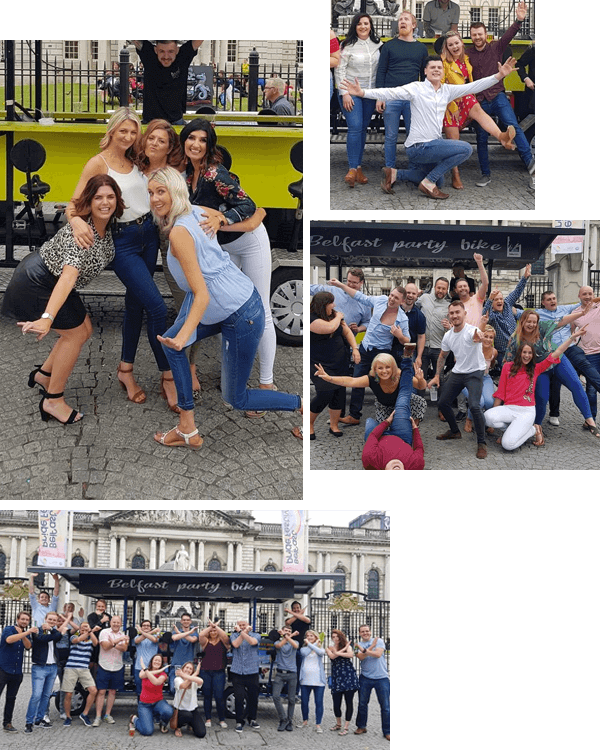 We offer two standard tour lengths, one hour and two hours. Both are extremely popular and provide a great experience for everyone onboard.
The standard one hour tour starts on Amelia Street and takes in sights such as City Hall and Cornmarket. We stop at two locations along the way. This tour is perfect if you're tight for time.
Our most popular tour also starts in Amelia Street and takes in City Hall, Cornmarket and also the busy Cathedral Quarter. We'll make three stops along the routine including a Pub stop. This tour is perfect for a group of any size.
We get asked lots of questions about group size, alcohol, and prices. Here are a few things worth noting before you jump onboard. If your question wasn't answered here we have some FAQs at the bottom of this page. Please ensure you read our Terms & Conditions before booking.
Tours start and finish in Amelia Street (next to Little Italy Pizzeria) We ask all parties to arrive 10 minutes in advance of their start time to ensure there are no delays. If our bike is not there when you arrive please don't panic, it's simply completing the previous tour and will be with you shortly.
We get asked lots of questions about group size, alcohol, and prices. Here are some FAQs which should answer your queries. If you still need more information please contact us via email or phone.
What's the min/max number of riders?
We don't have min or max numbers. We can take bookings from groups of two up to 40.
Can I bring my own food & drink?
Of Course! Bring as much food & drink as you'd like. Please be respectful of our city and use the public wastebins at the end of the tour.
Can under 18's get onboard?
Yes, however, the same rules apply to under 18's as adults. Be respectful and follow the instructions of our tour guides at all times. For more information call or email our team.
Can we stop at pub along the way?
Yes! We normally have two short stops on each tour to give everyone a break and an opportunity to have a drink or smoke.
Can you transport us to the start point?
Believe it or not, we can! We own a range of luxury Hummer Limos which are the perfect way to get everyone in the mood for your Party Bike Tour. Visit our Limo Package page for more information.
What should I wear?
This is Northern Ireland so a coat is always a good idea (unless the sun is splitting the tress). Ladies, our advice is bring a pair of flat shoes… you'll thank us later. Apart from that come dressed as you'd please, we're always excited to have fancy dressed groups onboard
Terms & Conditions
We do have a small number of Terms & Conditions, these are in place to ensure the safety and protection of your group and Belfast Party Bike Tours. Please read our Terms & Conditions before booking.