Exploring Belfast's Vibrant St. George's Market
Belfast, a city steeped in history and culture, offers a plethora of attractions that capture the essence of its past and present. One such gem is the iconic St. George's Market, a bustling marketplace that showcases the heart and soul of Belfast's artisanal scene. Paired with the unique experience of a Belfast party bike tour, a visit to this landmark becomes an unforgettable adventure that combines history, culture, and fun.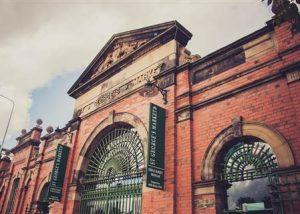 St. George's Market: A Glimpse into Belfast's Rich Heritage
St. George's Market, located in the heart of Belfast, stands as a testament to the city's enduring spirit. With origins dating back to the 19th century, this historical market has evolved from a simple vegetable market to a vibrant hub of art, craft, and community. Here are some of the positives of visiting this landmark:
1. Artisanal Delights: The market boasts an array of stalls showcasing local craftsmanship, from handcrafted jewelry to bespoke clothing and unique artwork. Exploring these stalls is like taking a journey through the creativity and talents of Belfast's residents.
2. Culinary Adventures: Food lovers will be delighted by the diverse range of culinary offerings at the market. From traditional Irish dishes to international flavors, visitors can savor everything from freshly baked goods to gourmet treats.
3. Live Entertainment: St. George's Market frequently hosts live music performances, adding a festive vibe to the atmosphere. Whether it's a local band or a solo artist, the music contributes to the lively ambiance and creates a memorable experience.
4. Community Engagement: The market is not just a place to shop; it's a space that brings the community together. Meeting local vendors and engaging in conversations with passionate artists fosters a sense of connection and belonging.
Adding a Twist with the Belfast Party Bike: Unforgettable Adventures
While St. George's Market offers a historical and cultural immersion, adding a Belfast party bike tour to your itinerary injects a dose of excitement and camaraderie. Here's how combining these experiences can elevate your visit:
1. Group Fun: The Belfast party bike is a unique and entertaining way to explore the city with a group of friends or fellow travelers. Pedaling through the streets while enjoying music and drinks creates a lively and energetic atmosphere.
2. Sightseeing with a Twist: As you pedal along on the party bike, you'll have the opportunity to see Belfast's landmarks and attractions in a new light. The interactive nature of the ride makes sightseeing an engaging and interactive experience.
3. Local Guides: Knowledgeable local guides on the party bike tours provide insights into the city's history, culture, and hidden gems. This enhances the overall experience, offering a well-rounded perspective of Belfast.
4. Unforgettable Memories: Whether it's celebrating a special occasion or simply enjoying the thrill of the ride, the memories created during a party bike tour are bound to be cherished for years to come.
Embrace the Best of Both Worlds
Combining a visit to St. George's Market with a Belfast party bike adventure allows you to experience the city's cultural depth while enjoying a unique and vibrant approach to exploration. From the historical richness of the market to the dynamic and lively party bike tour, this dual experience encapsulates the essence of Belfast in a way that truly resonates.
So, whether you're a history enthusiast, a foodie, or someone seeking unforgettable experiences, make sure to include both St. George's Market and a Belfast party bike tour on your itinerary. Your journey through Belfast's past and present will be illuminated by the warmth of its community, the creativity of its artisans, and the joy of shared moments with newfound friends.